K.I.Valitova
Kazan State Medical University
The problem of translating cultural realities in tourist texts about England.
Статья посвящена исследованию закономерностей передачи реалий при переводе с английского языка на русский язык. Гипотеза исследования заключается в том, что при передаче культуроносной информации об Англии с английского языка на русский язык возникает целый ряд переводческих трудностей, которые снимаются с помощью определенного переводческого инструментария, а именно с помощью такого приема как транскрипция. Целью исследования является изучение особенностей сохранения культуроносной информации в туристических текстах об Англии при переводе с английского на русский язык. Материалом исследования послужили реалии, встречающиеся в англоязычных туристических путеводителях об Англии и их аналогов на русском языке. Основными методами исследования являются описательный и сопоставительный методы, а также метод количественного подсчета. Гипотеза исследования была подтверждена. Основным переводческим приемом при переводе английских реалий на русский язык был прием транскрипции.
Ключевые слова: реалии, лексикология английского языка, частотность слов, культуроносная информация, переводческие приемы.
The article is devoted to the study of the laws of reality in translation from English into Russian. The hypothesis of the study is that when transmitting cultural information about England from English into Russian, a number of translation difficulties arise, which are removed with the help of certain translation tools, namely, using such a technique as transcription. The aim of the research is to study the features of preserving cultural information about England in tourist texts when translated from English into Russian. The research material is based on the realities found on the English-language tourist guides about England and their analogs in Russian. The research method consisted of a continuous sampling method, comparison, comparison, and analysis of the results obtained. The research hypothesis was confirmed.
Keywords: realities, English lexicology, word frequency, cultural information, translation techniques.
Both in culture and in the language of any people there are different levels of language and units belonging to them, which have a different degree of cultural conditioning. This, in turn, is explained by the fact that each individual language is nationally specific. Similar words in different linguistic cultures are called realities.
Reality is an object, a thing that materially exists, or that existed. According to the definitions given in dictionaries, reality is "objects of material culture". In linguistics and translation studies, it is customary to call words and expressions that designate objects and stable expressions realities.
Unfortunately, in the linguistic literature, despite the increased interest in this problem, a single point of view has not yet been developed, and moreover, views on reality are very contradictory and this term is used by different authors in different meanings, which creates confusion.
Language is one of the ways of transmission, as well as the preservation of the national specifics of the culture of the people, as well as the system of representation of this people about the world and place in it. Cultural realities reflect the national flavor of each individual nation. In the modern world, it is necessary to understand the culture of another country, as this contributes to successful communication and leads to a dialogue of cultures.
There are several classifications of realities according to various criteria. We have chosen the Vlakhov-Florin classification (subject, temporal, local), because the main distinguishing feature of realities is its nature of content and correlation to a particular period of time. We divided the realities we found into groups and made our own classification. As a result, the general scheme of the found realities took the following form:
- geographical realities (names of objects of physical geography, names of endemics), ethnographic realities (realities associated with life, culture and traditions), as well as socio-political realities (concepts related to the administrative-territorial structure, as well as the names of authorities, titles , estates, castes.
So, after our analysis of the realities, we found the following pattern: in the first place in tourist texts about England are ethnographic realities. Ethnographic realities, which are distinguished by special regional representativeness, vivid national and cultural imagery. The ethnographic group of realities is followed by socio-political realities. This group of realities is the main center of the maximum concentration of nationally colored vocabulary, reflecting the peculiarities of the life of the people - the native speaker. The third place was taken by the group of geographic realities. Geographical realities (toponyms) also very clearly reflect the peculiarity of the nationally colored vocabulary of the English-speaking country. According to researchers' estimates, toponymic lexi­the social stratum accounts for only 2-3% of the common vocabulary.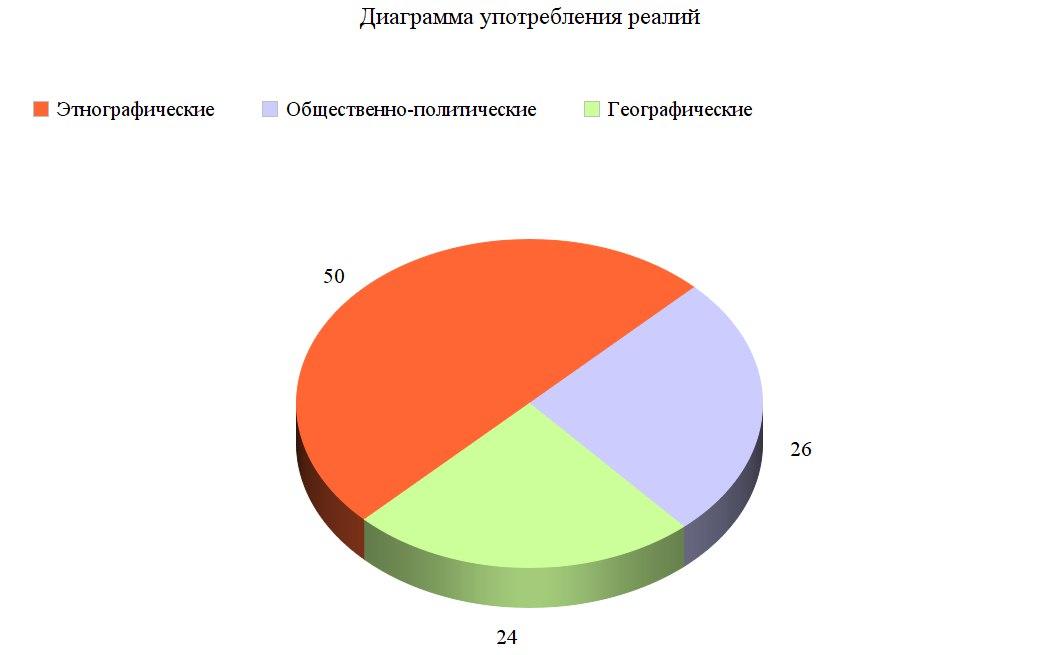 When working with cultural realities, we encountered two main problems: 1) the lack of correspondence in the translation language due to the lack of this object among the speakers, as well as the transfer of the color that is embedded in the reality itself, which contains a national and historical coloring.
After reviewing all the realities found in the text, we moved on to the analysis of data transmission techniques for realities:
1) Big Ben (tracing)
2) Westminster Abbey (half calf),
3) Poppy Day (tracing)
4) Remembrance Sunday (tracing)
5) Royal British Legion (tracing)
6) St David's Day (tracing)
7) St Patrick'sDay (tracing)
8) St Andrew's Day (tracing)
10) ploughman'slunch "plowman's breakfast" (tracing)
11) plum pudding – plum pudding (transcription)
12) sweet pies stuffed with apple raisins, spices (mincepies),
13) pancakes with lemon and sugar (tracing)
14) hot cross buns (tracing)
15) gooseberry dessert (gooseberry fool)
16) Burn's Night - Burns Nights (tracing)
17) Boxing Day - Boxing Day (tracing)
18) a penny - cent (analogue)
19) county - county (analogue)
20) state - state (transliteration)
21) sheriff - sheriff (transliteration)
22) ku-klux-klan - ku-klux-klan (transcription)
23) the Senate - Senate (transliteration)
24) bazooka - bazooka (anti-tank grenade launcher) (transliteration)
26) Gulf of Mexico - Gulf of Mexico (tracing)
27) Rocky Mountains - Rocky Mountains (tracing)
28) White Mountains - White Mountains and White Mountain (tracing and transcription)
29) Waterloo - Waterloo (transliteration)
30) Crown Court - Court of the Crown (tracing)
Analyzing the methods of transferring cultural realities, we came to the conclusion that the possibility of translating realities comes down to three main methods of translation: 1) transliteration; (introduction into the translation text of graphic means of the target language of the corresponding reality with the maximum approximation to its original phonetic form) 2) transcription; 3) tracing (The tracing technique allows you to transfer reality into the target language while preserving the semantics as fully as possible. Semi-calques are partial borrowings of words and expressions, consisting in part of words and expressions of the source language).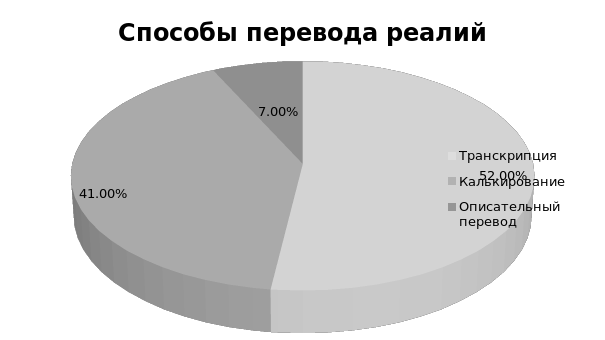 In this way, An analysis of the methods of transferring the selected corpus of units showed that the translation of cultural realities from English into Russian was carried out using such translation techniques as transcription, transliteration and tracing.
List of used literature
Alekseeva I.S. Introduction to Translation Studies-Textbook. manual for stud. philol. and lingua fac. higher. study. institutions.- St. Petersburg: Faculty of Philology, St. Petersburg State University, 2004. - 352p.

Barkhudarov L.S.Language and translation (Questions of general and particular theory of translation). M., "Intern. relations ", 2010. —240s.

Vlakhov S., Florin S. Untranslatable in translation. /Monograph.- M .: Higher school, 1986.- 384s.

V.N. Komissarov Translation theory. - M .: VSh, 2010. - 251s.

L.K. Latyshev Translation of the problem of theory, practice and teaching methods-M .: Education, 2001. - 160s.

Tomakhin, G. D.Realities-Americanisms [Text]: a guide to country studies / GD Tomakhin.-Moscow: Higher School, 2001. - 239 s.
Dictionaries
D.E. Rosenthal, M.A. Telenkova. Dictionary. Reference book of linguistic terms- M.: Education, 1976- 399p.

Oxford Learner's Dictionaries [Digital resource] / http://www.oxfordlearnersdictionaries.com/- Title from the screen. - (Date of treatment: 09.11.2020).

Longman Dictionary of Contemporary English [Digital resource] / http://www.ldoceonline.com/- Title from the screen. - (Date of the application: 10/14/2016).

Dorling Kindersley "London".